Mines Actively Producing in the NWT and Nunavut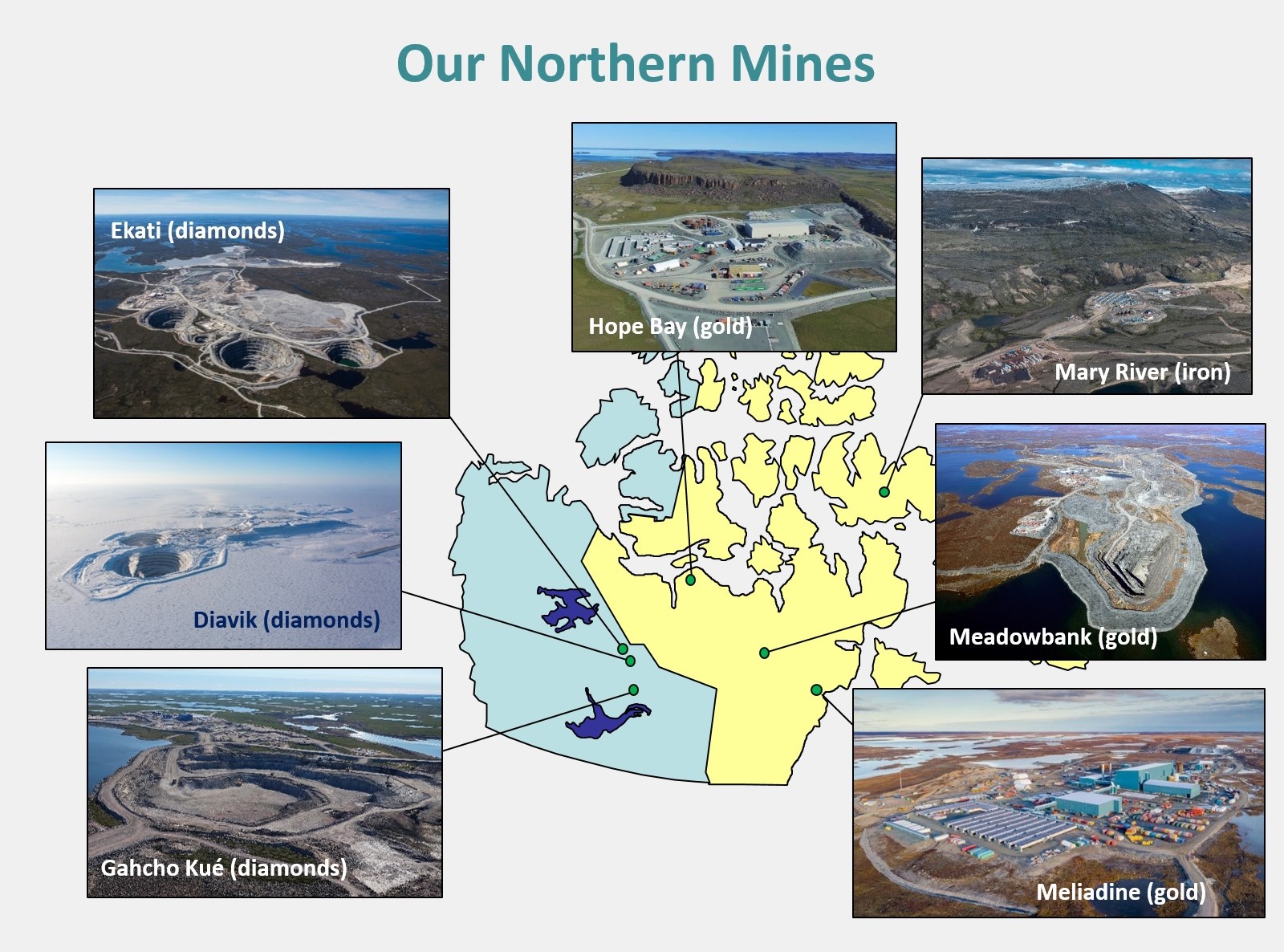 Ekati officially began production in October 1998, following extensive exploration and development work dating back to 1981. Like Diavik, the Ekati mine site is located in the Lac de Gras region of the Northwest Territories, approximately 300 kilometers northeast of Yellowknife.
Dominion Diamond Mines operates the Ekati Diamond Mine in which it owns a controlling interest. Over the mine's early years, production was focused on six open pits and two underground operations. The current reserves base case mine plan is based on production from six kimberlite pipes: Misery Main, Pigeon, Sable, Lynx and Jay open pits, and Koala underground operations. Currently, Koala, Misery Main, Pigeon and Lynx pipes are being mined. Mining has not yet commenced at the Sable or Jay pipes. In addition, the Misery South and Southwest satellite material is being excavated as part of the Misery Main mining operations. This material is being stockpiled separately and is planned to be processed through the Ekati plant as a supplement to the reserve base case mine plan, which we refer to as the operating base case mine plan. The Ekati process plant has the capacity to process 4.3 million tonnes per year. Additional feed from coarse ore rejects will be used to supplement mined ore. This material is not included in the reserves or resources and is therefore incremental to production.
Jay was approved for construction by the company in July 2016 and is the most significant undeveloped deposit at Ekati due to its large size and high grade and extends the mine life by approximately 10 years to 2033. The company's timetable for the development of Jay assumes the start of road construction in 2017, dike construction in 2018-2020, dewatering and start of pre-stripping in 2021, and mining and processing of Jay kimberlite by late 2022. In September 2017, Dominion Diamond announced results of Fox Deep preliminary economic assessment. Fox Deep would extend the mine life at Ekati to fiscal 2042 (calendar 2041) from fiscal 2035, which reflects inclusion of the recently-approved Misery Deep project.
As of January 31, 2017, the Ekati Mine is reported to contain 26.0 million carats of probable reserves in the core zone and 79.4 million carats of probable reserves in the buffer zone for a total of 105.4 million carats of total probable reserves (on a 100% basis).
(Source: Dominion Diamond website, November 2017)
The Diavik Diamond Mine is located in one of the most remote and forbidding places in the world - 220 kilometres south of the Arctic Circle and on the bed of a vast northern lake, Lac de Gras. A single road, built out of ice and crossing frozen lakes, connects the mine with other operations and Yellowknife, capital of Canada's Northwest Territories.
The construction of open pit and underground mining operations and related infrastructure are engineering feats on a grand scale. Open-pit mine construction included the building of rockfill dikes to hold the frigid waters of Lac de Gras at bay. Not only did the extremely harsh climatic conditions present significant construction challenges, but nothing was allowed to blemish the pristine waters of the lake during its building.
Diamonds were first discovered in the Lac de Gras region in the early 1990s, and construction of the Diavik Diamond Mine was completed in 2003. The mine has a current footprint of 10.5 square kilometres.
Open pit mining of the A154 South, A154 North and A418 pipes has concluded. Diavik is currently underground mining these three ore bodies.
In November 2014, development of a fourth pipe, called A21, was approved. Open-pit mining of A21 required a rockfill dike; A21 dike construction took approximately four years with A21 production expected to commence in 2018.
Since production began in 2003, Diavik has produced over 100 million carats of high quality rough diamonds. The majority of Diavik's product is gem-quality white stones, which are sold to select diamontaires.
Diavik's current mine plan has production continuing to 2025.
The Diavik Diamond Mine includes four ore bodies (A21, A154 South, A154 North, and A418 pipes) with total mine life of 16 to 22 years.
In December 2015, Diavik unveiled one of the largest rough gem-quality diamonds ever produced in Canada, the 187.7-carat Diavik Foxfire. For more on the Foxfire, including stunning images, and for other recent feature articles on our operations, click here.
(Source: Diavik mine website, January 2016)
Located at Kennady Lake, approximately 280 km northeast of Yellowknife and 80 km southeast of De Beers' Snap Lake Mine (placed on care and maintenance in December 2015) in the Northwest Territories, the Gahcho Kué Mine is a joint venture between De Beers Canada Inc. (51%) and Mountain Province Diamonds Inc.(49%).
De Beers, as the operator, is committed to operating this new mine to high safety standards and with deep respect for the land. The total capital cost is approximately C$1 billion. The mine began the ramp up of production in early August 2016 and reached commercial production in March 2017.
Gahcho Kué is an open pit operation, mining three kimberlite pipes in sequence: 5034, Hearne and Tuzo. Once in full operation, about 530 De Beers and contractor workers will be required to operate the mine during the approximately 12 year life of mine.
Average annual production is projected to be approximately 4.5 million carats.
De Beers is committed to sustainable development in local communities and has signed six Impact Benefit Agreements (IBA) for Gahcho Kué Mine including:
North Slave Métis Alliance (July 2013);
Tlicho Government (January 2014);
Yellowknives Dene First Nation (February 2014);
Lutsel K'e and Kache Dene First Nation (July 2014)
NWT Métis Nation (December 2014); and,
Deninu Kué First Nation (December 2014).
(Source: De Beers website, November 2017)
The Meadowbank mine is located in the Kivalliq region of Nunavut, about 2,600 kilometres northwest of Toronto. It is 300 kilometres west of Hudson Bay and 110 kilometres by road north of Baker Lake, the nearest community. Meadowbank was Agnico Eagle's largest gold producer in 2015, and has 0.9 million ounces of gold in proven and probable reserves* (11 million tonnes at 2.72 g/t). Meadowbank depends on the annual, warm-weather sealift by barge from Hudson Bay to Baker Lake for transportation of bulk supplies and heavy equipment. An all-weather road links Baker Lake to the site. An on-site airstrip is used for shipping food and goods and for transporting employees, who work on a fly-in, fly-out basis.
Mine commissioning and first gold production from the Portage open pit began in early 2010. The mine is expected to produce 305,000 ounces of gold in 2016, and to average 238,000 ounces gold from 2017 to 2018. The life of mine is expected to end in 2018. The company is actively exploring the Amaruq deposit with the goal of potentially developing the deposit as a satellite operation to Meadowbank.
(Source: Agnico Eagle website, August 2016. For more information on the AEM's Nunavut projects, click here. For career opportunities, click here, and for business opportunities, click here.)
The Mary River Project is located on northern Baffin Island, in the Nunavut Territory, in the Canadian Arctic. Baffinland Iron Mines Corporation (Baffinland)'s initial Project consisted of mining iron ore from the reserve at Deposit No. 1 at a production rate of 18 Million tonnes per year (Mt/a). The Nunavut Impact Review Board (NIRB) issued the Project Certificate for this Project on December 28, 2012.
The Mary River mine site is one of the most northern and richest in iron ore in the world. It consists of nine plus high-grade lump and fine iron ore deposits that can be mined, crushed and screened into marketable products and then shipped through our dedicated port facility. The mine and port are now fully operational; Baffinland shipped its first iron ore to European Markets in July, 2015. Due to the quality of the ore, no processing is required before shipping it to market, reducing overall impact to the environment and keeping production costs low. Baffinland has adopted a phased development strategy for this resource which is critical to prudent, reduced-risk development.
With the introduction of the Early Revenue Phase (ERP), the Mary River Project consists of mining iron ore from the reserve at Deposit No. 1 at a production rate of 21.5 Million tonnes per year (Mt/a). Initially, for the ERP, 3.5 Mtpa of iron ore will be mined, transported by trucks to Milne Port and shipped to markets from Milne Port during the open water season. As global markets improve for the prices of iron ore, the Company intends to proceed with the construction and operation of the larger Approved Project which includes the construction, operation, closure, and reclamation of a large scale mining operation (open-pit mine) and associated infrastructure for extraction, a railway link for the transportation of ore to Steensby Port, and, the construction and operation of a year around port facilities on Steensby Inlet for the shipment of iron ore. Once Steensby Port and the railway are operational, Baffinland expects that it will continue to ship up to 3.5 MTPA of ore via Milne Port for the duration of the Project. The environmental and socio economic impacts assessments for the Early Revenue Phase have accounted for the shipment of 3.5 MTPA of ore from Milne Port for the life of the Project (21 years).
There are 2 main project locations for the Early Revenue Phase (ERP) – the mine site at Mary River and Milne Port north of the mine which is connected via a 110 km. tote road. Development will occur at the Mine Site, sufficient to support the mining of 3.5 Mtpa of iron ore. The Tote Road will be upgraded to enable safe and efficient transportation of ore by truck from the Mine site to Milne Port. Milne Port will be fully developed and will accommodate 3.5 million tonnes ore stockpile, an ore dock, maintenance facility and associated infrastructure for the operation of the port facilities.
(Source: Baffinland Iron Mines website, 2016)
TMAC Resources manages the Hope Bay project in the Kitikmeot region of Nunavut. Commercial production and operation was achieved effective May 15, 2017 at the Doris Mine and Mill Complex. Infrastructure there includes a 1,000 tonne per day processing plant, air strips, roads, fuel storage, a port, power plants, administration, geology and lab buildings, and underground mine development at Doris and Boston deposits.
The Madrid and Boston properties are expected to commence production in 2020 and 2022, respectively.
The Hope Bay Project encompasses the Hope Bay greenstone belt which is eighty kilometres long by twenty kilometres wide and includes three camps with significant infrastructure.
(Source: TMAC Resources website, 2017)
The Meliadine mine is located near the western shore of Hudson Bay in the Kivalliq District of Nunavut, about 25 kilometres north of Rankin Inlet and 290 kilometres southeast of our Meadowbank mine. Meliadine includes seven gold deposits, six of which are part of the current mine plan. The 111,358-hectare property covers an 80-kilometre-long greenstone belt. The current mineral reserves are mainly in the Tiriganiaq deposit at underground and open pit depths, and consist of 3.8 million ounces of gold in proven and probable reserves (16.7 million tonnes at 6.97 g/t) as of December 31, 2018.
Commercial production began at Meliadine in mid-May 2019. The mine is expected to produce 230,000 ounces gold in 2019 (including pre-commercial production), and 385,000 ounces of gold production in 2020, its first full year of production. The Company anticipates that mining at Meliadine will be carried out through several underground mining operations and open pits over a 14 year mine life. There are numerous opportunities to create additional value at Meliadine, both at the mine and on the large regional land package.